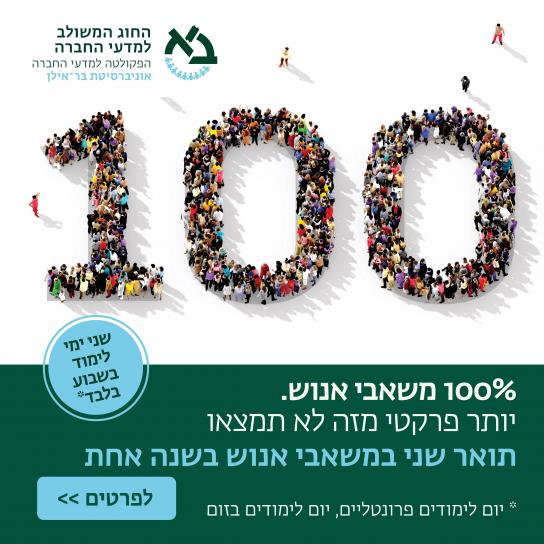 What will you learn?
The master's degree in Human Resources covers a variety of practical and knowledge areas required of practitioners in the field of Human Resources or in related fields. As such, the program is designed for those interested in expanding and deepening their knowledge and professional skills, and for those who wish to advance professionally in the workplace, integrate into large organizations, and obtain senior staff positions in management.
The program combines unique and up-to-date courses that cover management challenges faced by human resource managers. The curriculum provides up-to-date theoretical, professional, and applied knowledge in the field of human resources and offers a combination of field practicums and advanced academic research opportunities, with the goal of enriching the professional knowledge and skills of its students.
During your studies you will be exposed to advanced theoretical courses that combine recent research and current theoretical models (e.g., a course about the new post-Corona working environment, or a course in the strategic management of human resources). You will participate in applied workshops (e.g., developing skills in management and leadership; human resources as a motivation for innovation; or utilization of various developments of Excel software, through which the human capital in the organization can be managed), and you will be exposed to topics relevant to the current working environment (e.g., human resources management of older employees; or marketing to human resources managers). Additionally, interested students will be able to participate in a practicum, which will guide and train them in the performance of organizational development processes.
Academic Faculty
The courses are taught by a diverse and professional senior teaching staff that includes leading academics in their respective fields, some of whom serve as senior directors in the fields of consulting and HR.
About the Program 
Two tracks: Thesis Track ; Track Without Thesis
Program duration: one year, for a total of three consecutive semesters (Semester A, Semester B, and Summer Semester).
Days of Study:
Wednesdays (14:00 – 22:00; courses will be held on campus)
Fridays (8:00-14:00; courses will be held on zoom)
Admissions and Registration
Conditions of acceptance to the program:
An average of 80 during the Bachelor's degree
Admissions interview
Two recommendations: from academic faculty and/or from a manager
Those with a Bachelor's degree who did not study Human Resources or within a Faculty of Social Sciences will be required to take additional courses, depending on their academic background. The grades for these courses must be 78 or higher.
Thesis Track: grade of 85 or higher in Research Methods and Statistics courses taken during the Bachelor's degree
Contact Us:
By email hr.ma@biu.ac.il or by phone: 03-531-7010